Hello and thanks for visiting the Saustex home page. The recent passing of "The Other Davy Jones" - David Bowie, has reignited interest in an album I produced some 20 years ago "Only Bowie". It features Texas artists doing versions of The Thin White Dukes tunes (1966 -1979).

I still have copies of the original CD pressing of 1000. Here's the track and band listing:

1: I Can't Help Thinking About Me - Davy Jones' Mannish Ideals

2: Unwashed and Somewhat Slightly Dazed - The Bare-A** Minimums

3: Black Country Rock - T. Tex Edwards & The Swinging' Cornflake Killers

4: Hang On To Yourself - The Pocket FishRmen

5: Suffragette City - Wounded Turkey

6: John, I'm Only Dancing - The Hormones

7: Diamond Dogs - Blind Willie's Johnson

8: Rebel Skeletal - Lithium X-mas

9: TVC 15 - The Wannabes

10: Fame - F*ckemos

11. Golden Years - Amberjack Rice, Walter Traggert & Breakfastime

12: Heroes - Big Drag

13: Speed Of Life - ST-37

14: Boys Keep Swinging - The Gay Sportscasters

You can order yours right here: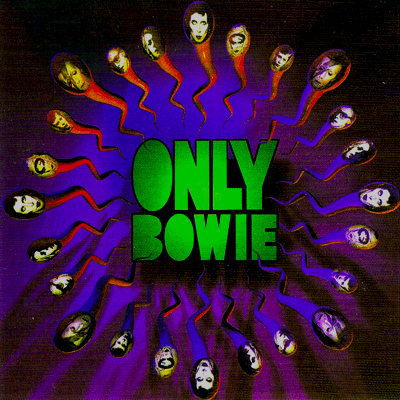 ...the day I met David Bowie in the late 80's, apologies to those of you who already caught it on my Facebook page...

Hickoids and Loco Gringos were playing together in the fall of '89 on the prophetically titled "Fiasco Magnifico Tour". We were staying at Texacala Jones' place in Hollywood...we'd all been partying pretty hard for about two and a half or three weeks by this time. Texacala had given me a pair of flared, sparkly purple spandex pants (as I had left Texas in only jeans and shoes for a three month tour, refusing to pack any clothes while drunk) that I was wearing without shirt or shoes, unshaven (and probably unbathed for several days). Tom "Pepe" Foote, myself and I believe one of the other Gringos had gone to the "Rock'n'Roll" Ralph's on Sunset Blvd. about 8 a.m. on a beer run. We're trying to find the beer section and Pepe points over towards the check out line and in his best Abilene drawl says "Look! it's Dave Bowie!" I'm like "No Way. You're putting me on..." but, glance over there, and, it is undoubtedly the man. So, I go up and awkwardly introduce myself, something like "Hey, I'm Jeff. You and Iggy are my heroes." I didn't want to blow hard on him and suddenly became very self-conscious about my appearance (for the first time in years) as he was dapper as usual in a white linen suit and $200 shirt. He was very cordial, asked us what we were doing, and, I think what band we were in and where we were from. Anyway, we skedaddle on off to find our case of generic beer (for real) to get the day rolling and are behind him in the checkout line. He's buying wine and cheese with a model-looking type (not Iman) and they leave. We're walking out the front of the grocery store and he rolls by in an expensive-a**ed looking, white European convertible and gives us a big wave and smile as if to say "Cheerio Boys!".

He was a real gentleman and obviously a big influence on me. Thanks for making it okay for me and a bunch of other folks to be weirdos. R.I.P. my hero.