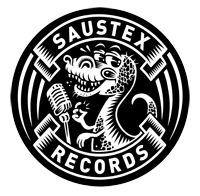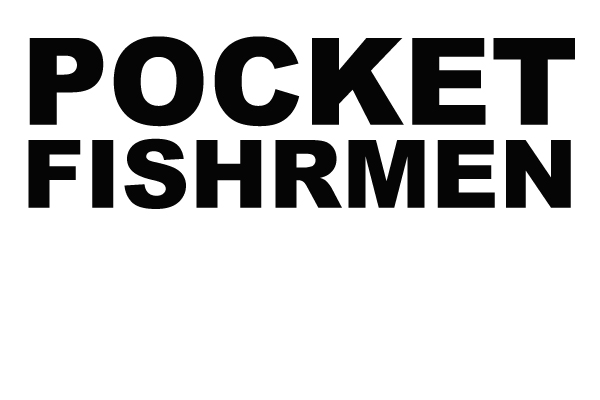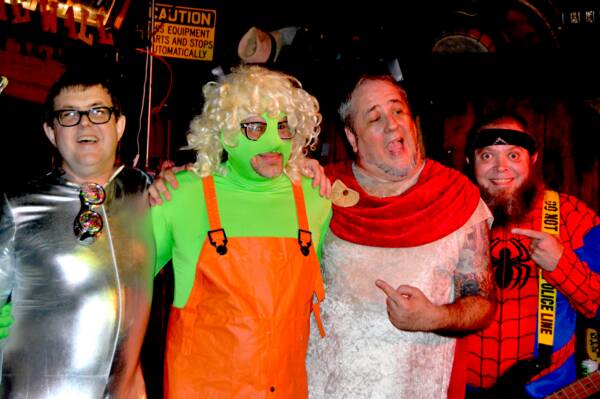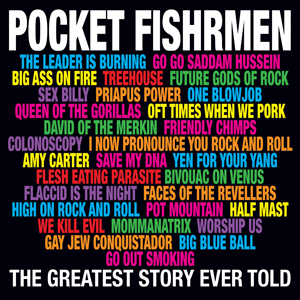 Saustex Records is pleased to announce 'The Greatest Story Ever Told' a career spanning, re-recorded "best of" collection comprising thirty songs by Austin, Texas' greatest and longest running sci-fi punk metal band the Pocket FishRmen. These deviants boldly go where no band has gone before with previously uncharted subject matter and rhyme schemes on this goofy yet edifying volume. This nicely gatefold packaged, limited edition 140 gram LP and CD includes perennial audience favorites 'Amy Carter', 'The Leader is Burning', 'One Blowjob', 'Treehouse' and 'Go Out Smoking' and many, many more. Not for the shy or faint of heart these lads are recommended for fans of Sloppy Seconds, Screeching Weasel, The Dickies  and The Queers.

1. The Leader is Burning

2. Go Go Saddam Hussein

3. Big Ass On Fire

4. Treehouse

5. Future Gods of Rock

6. Sex Billy

7. Priapus Power

8. One Blowjob

9. Queen of the Gorillas

10. Oft Times When We Pork

11. David of the Merkin

12. Friendly Chimps

13. Colonoscopy

14. I Now Pronounce You Rock and Roll

15. Amy Carter

16. Save My DNA

17. Yen For Your Yang

18. Flesh Eating Parasite

19. Bivouac on Venus

20. Flaccid is the Night

21. Faces of the Revelers

22. High On Rock And Roll

23. Pot Mountain

24. Half Mast

25. We Kill Evil

26. Mommanatrix

27. Worship Us

28. Gay Jew Conquistador

29. Big Blue Ball

30. Go Out Smoking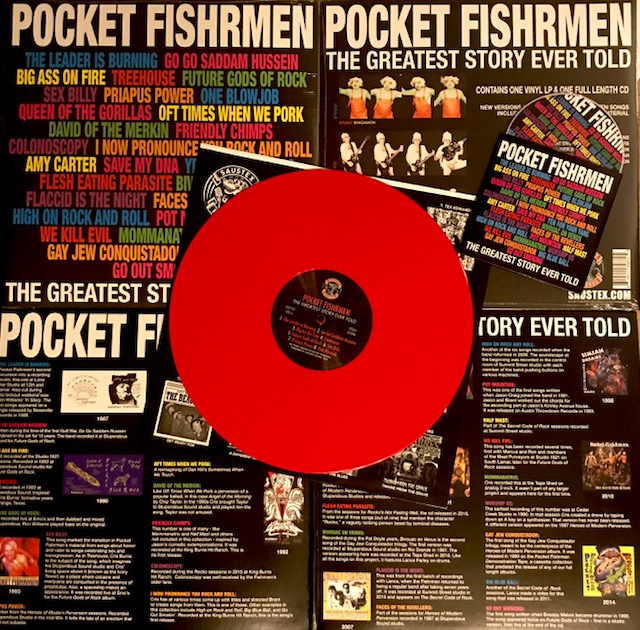 POCKET FISHRMEN

'THE GREATEST STORY EVER TOLD'

140 GRAM  RED VINYL + CD

LTD ED OF 100

$21 + S&H

POCKET FISHRMEN

'THE GREATEST STORY EVER TOLD'

TEST PRESSING + 140 GRAM  RED VINYL + CD

LTD ED OF 15

$35 + S&H

How do you sum up a band like the Pocket FishRmen? The quartet trace their roots to the late-80's/early 90's Austin art-punk/post-punk scene that spawned bands like Ed Hall, Crust, Fuckemos and others - essentially Central Texas' weird impoverished cousin to Seattle's burgeoning grunge scene. But the Pocket FishRmen always held an important distinction among this noisy, lysergicly and pharmaceutically fueled lot that often favored chaos and ambience to song structure and melody. The Pocket FishRmen's tunes were/are lyrically-fueled and tightly conceived three minute blasts that straddle the genres of punk, art and arena rock - simultaneously humorous, tasteless, rebellious and clever.

Tellingly, they would receive an early career boost from legendary UK deejay/presenter John Peel who championed their 7" 'The Leader is Burning' (Noiseville Records) in 1989, ultimately choosing it as one of four records to represent 1989 in his "Peelenium" presentation an overview of 400 songs from 100 years of recorded music that included the likes of Louis Armstrong with King Oliver doing 'Dipper Mouth Blues', Bing Crosby's 'Just A Gigolo', Elvis Presley's 'Baby Let's Play House', Leonard Cohen, David Bowie, The Ramones, Al Green, Sonic Youth, etc. High cotton indeed. Additionally the single was found in "John Peel's Record Box" - a crate found at the time of Peel's death containing 142 singles that were presumably his most prized and which would become the subject of a BBC documentary.

The band, consisting of founding and constant members Cris Burns (guitar) and Brant Bingamon (vocals), alongside early drummer Marcus Trejo and bassist Ron Williams would play their earliest shows in 1986 at Dong Huong - a Vietnamese restaurant/bar and erstwhile house of ill-repute in Austin's then artsy North Loop neighborhood, along with shows at house parties and the occasional club gig. They would release their debut single 'Amy Carter' in 1986, followed by the above mentioned 'Leader' single in '89 and 'Sodom & Gomorrah' in '90. Trejo and Williams would both depart in the early '90's - Trejo being replaced first by nude trapsman Snoopy Melvin and then by Pat Doyle of Austin's legendary and influential hardcore band The Offenders, while Jason Craig would become a permanent replacement for Williams.

By the time of the release of their debut full-length 'Future Gods of Rock' in 1993 Austin's downtown club scene was beginning to boom and the band played a steady diet of gigs at the seamy transvestite hustler bar The Blue Flamingo, D.I.Y. spot The Cavity Club and the one-time dominant player of 6th Street and Red River, Emo's, and began to appear more frequently at the venue that has been a constant in their history since, UT campus area dive Hole In The Wall.

The FishRmen would release two more albums 'Heroes of Modern Perversion' and 'Simian Dreams' (which marked the beginning of Bingamon's foray into ape and monkey-themed lyrical content). While their live shows remained well-attended and their recorded output remained consistent in vision and quality it was out of step with whatever the predominant sound of the last half of the 90's might be. This combined with an appreciable lack of touring netted very little traction and come May 2000 the band had seemingly run out of gas under the strain of career, marital and parenting demands and would play a farewell show at the Red Eyed Fly. As Greg Beets poignantly noted in his live review of the show for The Austin Chronicle: "...you couldn't help wondering how things might have turned out if the band always drew crowds like this. The Pocket FishRmen were often taken for granted, their consummate showmanship and playful perversion appreciated but ultimately passed over in favor of a long succession of Next Big Things."

Finally, come 2007 the band would begin playing again, now with Lance Farley (Honky, Hickoids, Noodle, Captain Smooth, etc.) occupying the drum throne. Alongside bands like PONG, El Pathos, Hickoids and others the FishRmen's return marked a re-emergence of Austin's old-school punks and noisemakers, many seemingly re-energized after having a decade or more to sort out finances, families and substances. The band would release two more full-lengths 2010's 'The Secret Code of Rock' and 'Rocko's Not Feeling Well' in 2014, in addition to tracks on multiple compilations. The revitalized FishRmen perform consistently around Austin and host their annual "Fish Fry" (2017 having been the 9th annual edition) that benefits Kinky Friedman's Hill Country Animal Rescue. Their live shows remain heavily costumed and diamond tough and their sound is a continuum still anchored and registered by Bingamon's high pitched warble and Burns' cheese metal guitar histrionics.

The thirty track LP and bonus CD 'The Greatest Story Ever Told' represents a document and celebration of their thirty years as a concept, an entity and as the local "Heroes of Modern Perversion". Enjoy.