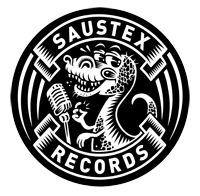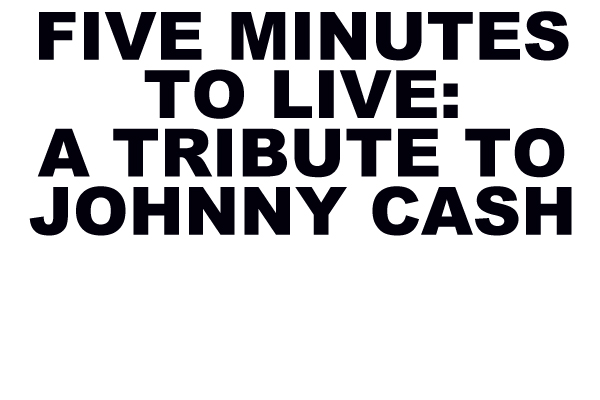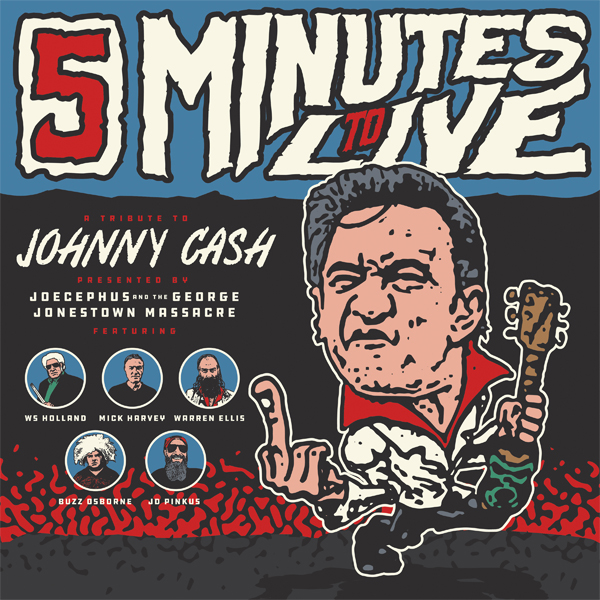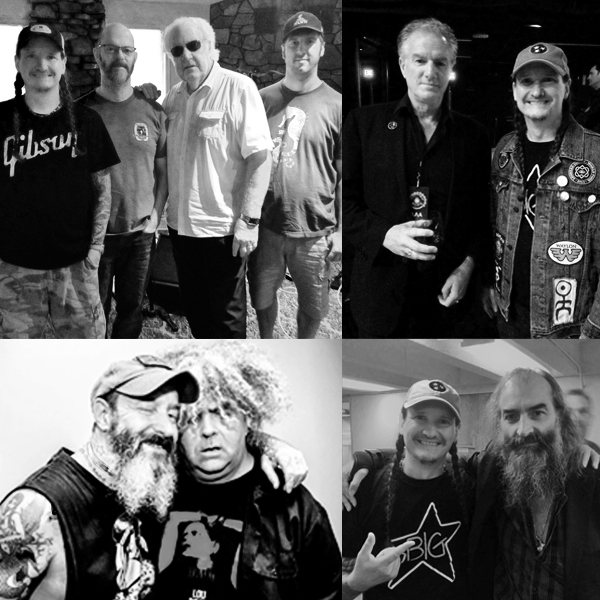 Joey Killingsworth is a hard-working dude, and he works hard at the things he loves. By day he makes a living in Memphis by booking heavy stoner bands. By night and on the weekends he makes some of his living playing with his band Joecephus & The George Jonestown Massacre...and he finds a way to help others with his production partner Dik LeDoux. About this time last year Saustex released the first of what we hope will be many tribute records for charity 'Mutants of the Monster: A Tribute to Black Oak Arkansas' a double LP that features an absolutely stellar lineup that includes Shooter Jennings, Jello Biafra, Nik Turner and too many more to list right here.

Now the pair have turned their attention to "The Man in Black" - Johnny Cash. 'Five Minutes To Live: A Tribute To Johnny Cash' is once again impeccably conceived by the pair and recorded in Memphis, TN. Featured guest artists on this EP include: W.S. "Fluke" Holland (Holland is featured on all tracks and was the drummer for Carl Perkins, Johnny Cash and the first man to play a full drum kit on the stage of The Grand Ol' Opry), Mick Harvey (multi-instrumentalist for The Birthday Party, Nick Cave & The Bad Seeds), Warren Ellis (Nick Cave & The Bad Seeds, The Dirty Three), Buzz "King Buzzo" Osborne (The Melvins) and J.D. Pinkus (The Butthole Surfers, Honky).

The EP is available on 12" 140 gram blue vinyl in an edition of 200 (exclusively from this newsletter or Saustex.com) for delivery in the next couple of weeks, As a kicker all of the band's profits benefit the FSH Society - more on that below.

Digipak CD for immediate delivery from Saustex. Black retail vinyl, CD and digital will be available October 20th, 2017 via Burnside Distribution in North America and Rough Trade Distribution in Europe and the U.K.

The short but sweet set kicks off with the obscure Cash penned gem 'The Losing Kind'  - sung by Honky frontman JD Pinkus. The lyrics are told from the perspective of a happy-go-luckless rounder who upon listing all that he has lost surmises that "I guess I'm just the losing kind".

Mick Harvey croons the EP's title track, another fairly obscure Cash composition 'Five Minutes to Live' that was written for the 1961 film of the same name that starred Johnny Cash as a maniacal hoodlum, Vic Tayback and a very young Ronny Howard.

Joecephus (Killingsworth) handles vocal duties with fiddle accompaniment by Bad Seed Warren Ellis on the uptempo Harland Howard murder ballad 'The Sound of Laughter' - the tale of a condemned man who owes his fate to the insensitivity of his mocking ex-girlfriend.

Melvins main man Buzz Osborne renders a surprisingly faithful rendition of the Marijohn Wilkin and Danny Dil composed classic 'Long Black Veil' (with Ellis again providing fiddle). The tune has long been a staple of all-time favorite Johnny Cash performances among his fans.

'Five Minutes to Live: A Tribute to Johnny Cash' speaks well to the enduring musical legacy and cultural influence of The Man in Black.

I asked Joey Killingsworth (Joecephus) a few questions about the upcoming release via email.

Q: How did you meet W.S. Holland and approach him about the idea of doing the tribute?

A: I met W.S. back in 2004 when I was playing drums for rockabilly legend Eddie Bond.  We were on some of the same shows together and I asked him if he would ever record a song with my band and he said yes.  Fast forward to 2017 and me and Dik LeDoux decided to keep doing tribute records for charity. I told W.S. about the idea to record some songs with guests and all profits going to charity and he said "Where at and what time? I'll be there."

Q: How did you approach Mick and Warren and sell them on the idea of participating?

While they're not megastars - they are very respected and busy artists.  

A: Basically I sent Mick and Warren info about our last tribute album (Mutants of The Monster: A Tribute to Black Oak Arkansas) and told them my idea for this one and they  were both  interested in being a part of it. The fact that Warren, Mick, Pinkus, W.S. and Buzz are all on a Joecephus & The George Jonestown Massacre record is pretty surreal and mind blowing for me. Can't thank them guys enough for helping us out with this project.

Q: What made you choose Johnny Cash as the object of the tribute and the particular songs?

A: I'm a huge Johnny Cash fan and after the attention 'Mutants Of The Monster' got it seemed like a good time to pitch my idea of recording some of the more obscure Cash songs for charity to W.S. With him onboard it would make it easier to get the guests I was shooting for. I've always been more of a fan of Cash's obscure darker songs and with the guests we were trying to get it seemed  we could do something really unique and special.

Q: What is your connection to the FSH society as the recipient of your profits from the project? 

A: Our good friend Jonelle Spicer has FSHD Muscular Dystrophy and for many years she has put on an event called Spicerfest to raise money for the FSH Society. She is awesome and we really wanted to help her raise some money and this seemed like a great way to do it.

JOECEPHUS & THE GJM 'FIVE MINUTES TO LIVE: A TRIBUTE TO JOHNNY CASH' LTD ED BLUE VINYL 12" EP 200 copies only $11 +S&H

JOECEPHUS & THE GJM 'FIVE MINUTES TO LIVE: A TRIBUTE TO JOHNNY CASH' CD

$6 +S&H

JOECEPHUS & THE GJM 'FIVE MINUTES TO LIVE: A TRIBUTE TO JOHNNY CASH' LTD ED of 15 TEST PRESSING $25 +S&H.